Mother's Day is a day to honour mothers, motherhood and maternal bonds. Beginning in the United States, many other countries have adopted this holiday to show their appreciation for Mothers and what they do for society. The holiday has become commercialised over recent decades, but the reason for this day of celebration still remains the same.
This Sunday the Smart On Hold Options team will be participating in the Mother's Day Classic. This event has raised $19.8 Million dollars since it was established in 1998 for Breast Cancer Research! Because of the great work and achievements that this amazing charity has achieved, it's become a part of Australian tradition to participate in this race on Mother's Day for thousands of Mothers and their children.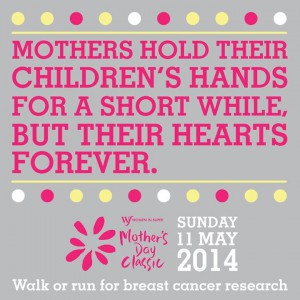 So, whether your Mother is no longer here, or if you are lucky enough to see her every day or week – let's celebrate how lucky we are that Motherhood and the bond between a mother and a child is a sacred one that should be celebrated every day. If you can give just a little to this amazing charity, then you will be helping Mother's across Australia who have been effected by this disease, by helping to finding a cure against Breast Cancer.
Happy Mother's Day,
The Smart On Hold Options Team.