It's already September and spring break is blooming just around the corner! Our mid-year competition has commenced a while back but the winner has just been announced.
Time flies, since we drew our last competition winner and gave away a 10 kg chocolate block. September 1, 2014 marks the day we announced the lucky winner of our latest grand escapade prize. Meet Kerri Gorman, owner of Gorman Removals, the winner of our contest and recipient of a 2-night luxury Gold Coast Package at the Hotel Grand Chancellor. What a fabulous way to start the season!
Gorman's Removals has been in the moving and delivery services industry for 52 years, with its office and depots in Rockhampton, Gladstone, and Brisbane. When it comes to reliable and trusted moving services, Gorman's Removals has become a household name in Australia and an industry leader to date.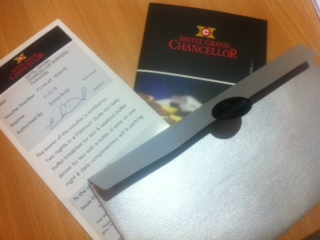 As the Message On Hold service provider for Gorman's Removals, Smart On Hold Options is happy and proud to award Kerry with our "Spring Break" package: 2-night accommodation in a Premium Suite, full buffet breakfast for 2 each morning, seafood buffet dinner for 2 including a bottle of wine for the first evening, complimentary parking for 2 days, and complimentary WiFi& free welcome basket on arrival.
Entering Smart On Hold Options' competitions is easy. Every year, we aim to hold at least 2 competitions with the intention of giving away fabulous prizes to our lucky winners.
Recently, we have just awarded a Gold Coast Package at the Hotel Grand Chancellor. Imagine what our next contest winner will get from our biggest competition ever: The Mystery Box Competition.You will have the chance to win our biggest prize yet, valued at almost $200,000!
Can you guess what our next big prize is? You might become our next winner!
Head out to our Facebook page, like Smart On Hold Options, and enter your guess in a message for a complimentary ticket to our mystery competition.
Just keep on watching our Competition page in this website for new contest updates and details on how to enter.Great prizes await you here at SOHO!