So you think your growing business doesn't need an on hold messages revamp to intensify your marketing tactics? Think again. You may be falling behind your competitors by now. You might have heard about companies that have long been offering messages on hold services.
But what's your typical response to this kind of customer service/marketing strategy? I guess you're reluctant, or worse hesitant, believing that it's just a waste of your limited resources and that there are other bigger marketing tools to think about with your budget than that of a message on-hold.
Sorry to burst your bubble, but you need to know some facts about messages on hold before dismissing the strategy from your business arsenals. To others who have already trusted the power of on hold advertising for their business callers, you are wiser than you think you are!
Below are 6 facts that you need to know about phone answering services. These statistics are derived from intensive research and studies by various trusted sources. Take note that original source of data or date of publication may not be readily available online.
6 Facts You Need To Know About On Hold Messages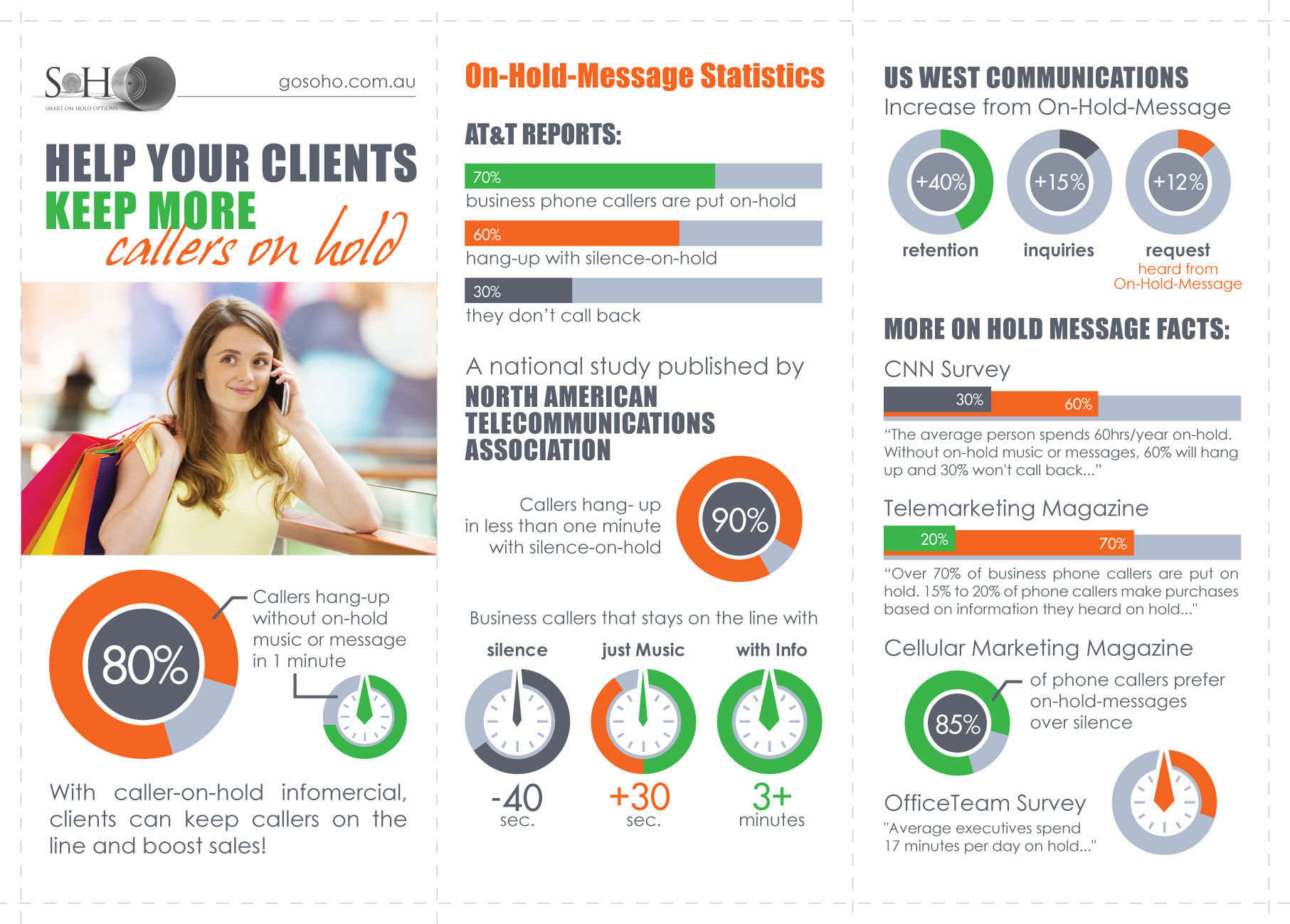 1. Over 70% Of Business Phone Callers Are Put On Hold
This is probably not a shocker since companies that we usually do business with deal with a large number of calls everyday according to Denwa Communications in the UK.
So we might as well maintain our tempers when calling sales companies like retailers and service providers, seeing as they can't entertain everybody at one time. A survey conducted by ICM also revealed that "70% of customers are put on hold, on more than half of their calls to businesses."
If you've been answered right away by a live agent, consider yourself lucky from being spared of the said 70% of business phone callers.
From a business owner's stand point, the gravity of this statistic indicates that this portion of callers should not be left on hold with just the sound of silence, especially for a very long time.
They will constitute to most of your sales if they're handled in the most appropriate way, starting from holding them with a rich message on hold about your company or your offered products and services.
Imagine losing potential sales from that 70% if you're not careful enough of placing them on hold. Save them from the frustration of waiting with a message on-hold.
2. Average Executive Spends 17 Minutes/Day On Hold
Based from a study carried out by Harvard Business School, the vast majority of a CEO's time which is at 85%, is spent working with other people through meetings, phone calls, and public appearances. From the data given, maximising an executive's time is valuable to the company because the mentioned activities above directly impact to the business' success.
It goes to say that wasting an exec's time, even when placing them on hold for a couple of minutes, should be done in a way that they'll never feel that they're precious time is being put to waste.
Business or no business, extension beyond the 17-minute mark is already inexcusable for them. They're always on the phone everyday (God knows which companies they're calling), so it's inevitable that when they call other companies, they'd also be placed on hold.
According to a survey conducted by CNN, 70% of the callers in the United States who are holding the line with silence on hold, hang up within 60 seconds.
So, if an average executive spends 17 minutes per day on hold, he's most probably calling 17 different or the same companies. If you don't want to lose these executives who are planning to be dealing with you, provide a welcome messages for them to stay a little bit longer.
3. Average Person Spends 60 Hours Per Year On Hold – CNN Survey
If an average executive spends 17 minutes per day on hold, an average person most likely spends 15 minutes a day or 60 hours per year on hold according toseparate surveys conducted by CNN and USA Today.Because the result indicates that an average person waits shorter than an average executive, the difference isn't diminutive. This further justifies the need for businesses to implement phone answering message as part of their customer service agenda.
4. Without On Hold Music Or Messages, 60% Of Those On Hold Will Hang Up And 30% Won't Call Back – CNN Survey
According to a survey by Mintelin 2002, 90% of callers are "fed up" of holding, 60% are "frustrated", and 30% when being on hold for a very long time, frantically press any button before slamming the phone down.
Imagine the trauma that these people undergo when you place them on hold with dead air. It's no wonder that both the surveys conducted by CNN and Mintel coincide with one another, stating that these "frustrated" callers eventually hang up and the frantic 30% won't call back anymore.
Though it's a guarantee that you'd lose only 30% of the callers, it still is a big slap to your brand image. It's never good to leave a bad impression to any of your clients. Always remember how bad word-of-mouth can damage one's reputation, especially now that we're in a digital age.
5. Over 85% Of Phone Callers Prefer On Hold Messages Over Silence
It's no question that almost all of us can agree to the misery brought about by silence on hold. The dead silence makes the waiting seem longer until you'd wonder if you've been already disconnected.
And why is this? It's because callers are more aware of it. This awareness leads to confusion most of the time, with callers thinking … Am I still on the line? How long will this take? Should I hang up now? Did the operator just hang up on me or am I just delusional?
It's no surprise that most prefer phone answering message over silence because they want to be entertained when they've got nothing else to do but to wait.
6. Surveys Show That 15% To 20% Of Phone Callers Make Purchases Based On Information They Heard On Hold
While you can't convert each caller into actual buyers, it's good to know that around 20% are willing to make a purchase based on phone answering messages they hear. Aside from establishing your brand to your callers on hold and giving them a level of customer service, you're also making extra income which is really the primary goal of your business.
For example, your caller may inquire about solar panels. They are probably interested in installing one for their homes. Upon hearing the other service that you also offer, say cable network satellites, you might trigger a favorable response into the callersbrain telling them to also think or enquire about that service.
Isn't it great that you're able to inform them that you also offer various services that they thought they would never get from you? Better, if they go ahead and purchase the product or service that you have just introduced on hold.
With these facts, you won't have any illogical excuses to not purchase a messages on-hold services. If you're still not convinced on how on hold messages can turn your growing business into an empire, take a look at our infographic to extend your knowledge. The facts are there for you to know, it's up to you on how you'll use them.