Need cost-effective voicemail greetings written and read by professionals?
We're here to help.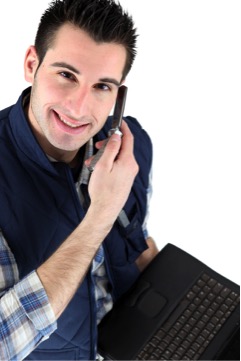 Welcoming your customers (and potential customers) with a professional voicemail greeting while they are on hold is essential to any up-and-coming or well-established business. A well thought out voicemail greeting can inform, educate and influence callers towards positive action – they can also put them in a positive, buying mood. The beauty about voicemail greetings is that they can be scheduled and automated – saving you the time, money and stress.
Voicemail messages are all complimentary with our rental message on hold packages including night message, auto attendants and voice prompts.
Smart On Hold is an on hold messaging service that is sure to give a boost to your business and sales – all while keeping the customer intrigued and happy throughout the call. We offer voicemail greetings at a low price – starting from $1.45 a day. You can try our service for 180 days and if you are not satisfied, we will double your money back.
Voicemail is an investment worth taking
Your time and the customer's time are precious, so why not achieve two aims in one with professional on hold messages?
With Smart On Hold, your customer will hear high quality messages and greetings that are engaging and can put them in a buying mood. Here are some reasons why Smart On Hold can enhance your business:
You can generate more enquires with every call

No lock in contracts – ever

Experienced copy writers to write custom on hold messaging for your business

180-day trial or double your money back!

You can also include what you would want to include in your messages or voicemail greetings. You can include a number of things such as:
Services the customer may not know you offer

New Locations – let the customer know if you have moved in your area

New Specials – promote new specials and season specials you may be offering


New products – promote a new product you are selling
Voicemail Services Available Australia wide
We provide a range of voicemail and on hold message related services Australia-wide. Whether you live in Brisbane, Perth, Sydney, Melbourne, Adelaide, Darwin – or even in other surrounding cities or towns, we're here to help.
Start today
Tell us what you would like to include in your messages or greetings and our copywriters can craft a collection of short messages that are both informative and engaging – we can also work with you to find the most beneficial voicemail strategy for your business. This can generate more sales in your business, as well as boost your brand and increase your goodwill. ?
Looking for cost-effective voicemail greetings? Contact us for a special offer.