Does Your Small Business Suffer From An Unprofessional Phone System?
Professional on hold messages and music aren't limited to major companies with multi-line telephone systems. Despite what many small business owners believe, on hold messages and music can easily be added to single line and cordless phones. That's right – regardless of whether you have 1 phone or 100 phones, your business can experience the benefits of professionally-recorded message on hold. At Smart On Hold, we have a range of on hold messaging devices that offer cost-effective solutions to businesses of all sizes.
Just Quickly… Why Does Your Business Need On-Hold Messages?
Many small businesses like restaurants, hairdressers and retailers don't have an on hold messaging system, and instead simply put one phone down on the counter/desk while they answer the second cordless, talk to a customer or look something up online. This makes their business appear unprofessional and provides a lacking customer experience. The easy solution to this problem is having on hold messages, which will make your business appear more organised and professional. On hold messages will help you to run your business and serve your customers more efficiently.
Here are just a few benefits of having on hold messages:
Serve your customers better and faster
Reduce phone call hang ups
Enhance your brand image
Inform customers about your business offerings
Demonstrate your commitment to professionalism and positive customer experience
Generate more sales
You can read more about these benefits in our previous post, Save Your Business Time & Money NOW With An Advertising Medium That Targets Your Customers Like No Other.
Both of the devices below are manufactured in Australia.
Our Messaging Devices For Single Line & Cordless Phones
On Hold Switch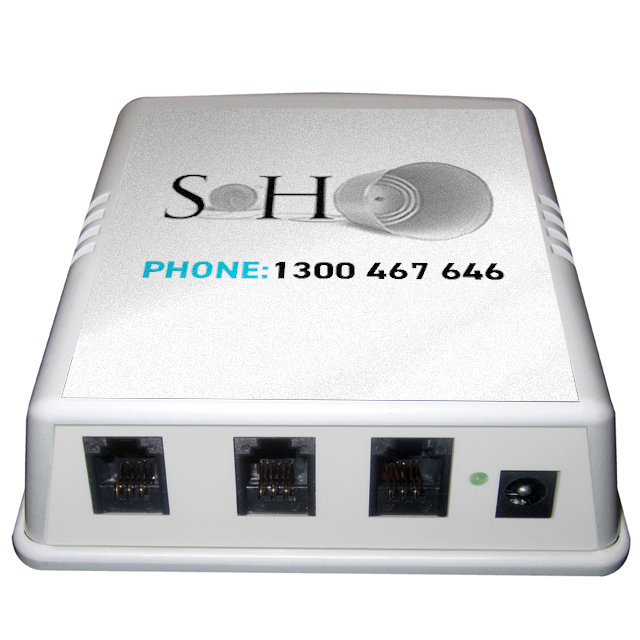 Our unique On Hold Switch (OHS) devices are specifically designed to allow users to play professional music or messages on hold through an ordinary 'residential type' telephone line. This device works with single line and cordless phones.
With the OHS, you can connect any type of audio device as your audio source, be it an iPod, radio, PC or, as we recommend, a dedicated messages player like a Smart IP Audio Box (find out more about these devices in our post What Is A Smart IP Audio Box And How Can It Help Your Business?).
If you are using your own audio equipment, the only requirements are that your Audio device must have volume control, provides audio at a suitable volume for use on a Telephone line and can connect to the OHS via a supplied 3.5 mm headset jack commonly known as a Line Isolation Unit.
If you are not planning to use a dedicated digital message on hold player (like our Smart IP Audio Box), we recommend that you use the Single Line Option shown below, as it combines the OHS, a digital message player, LIU and Power Adaptors all into a single integrated package.
Single Line Option
Our Single Line Option (SLO) has its own in-built audio player – we simply load encrypted audio directly into it. The SLO can store up to 18 professionally-recorded messages that play continuously, so callers will hear a different message each time they call.
Our Single Line Option is a complete on hold messaging solution that is designed specifically for single line users. The device features can include a range of incorporated features (including optional automatic call attendant and after hours announcements) along with an intelligent telephone line switching system. The SLO incorporates a high quality MP3-based digital message centre that can play MP3 files of any sampling rate. To install, you simply plug the SLO into any telephone socket.
Contact Smart On Hold Today
If you have any questions about messages on hold for business for your single line or cordless phone, don't hesitate to get in touch with Smart On Hold today. We know everything you need to get your professional on hold messages, voicemail messages, music on hold up and running.